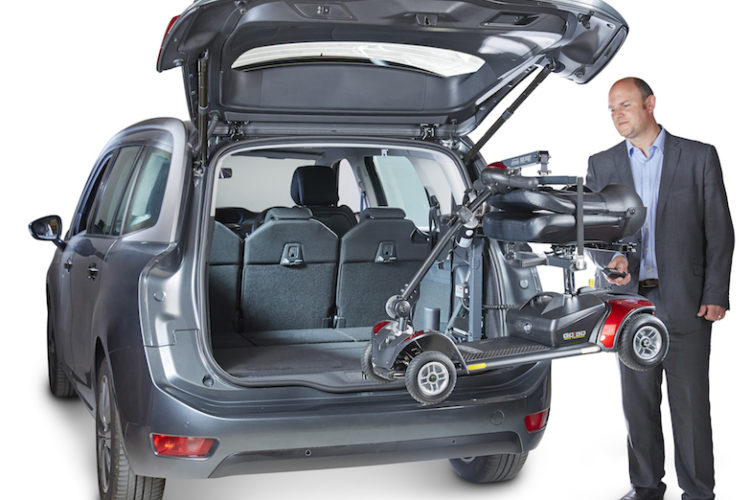 With the ever increasing popularity of mobility scooters and power-chairs, it is inevitable that more users, specifically car owners, will want to transport them further afield for family days out or even holidays away from home. With increased range and performance plus easier terrain to navigate, the days of just taking a short ride around local shops are long gone.
In this post, we look at the options available and costs for people who want to transport their scooters, wheelchairs and power-chairs easily in, or on their cars.
The Smart Lifter Car Hoist: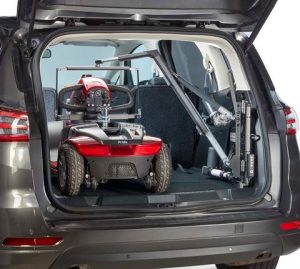 These come in a variety of options, weight capacities and prices. They are suitable for most hatchbacks, estate cars, SUV's and vans – typically vehicles with larger outward rear or side opening doors. Sadly though, these hoists don't generally work in a typical saloon car with a recessed boot due to the small aperture size and associated fitting difficulties.
Operation: These hoists are usually powered by the cars own battery and rely on the user to attach the scooter to the hoist. This is normally done by attaching a custom lifting bar to strategic parts of the scooter or by looping a tie-strap to a solid part of the scooter. In some cases the scooter can be lifted as a whole, but with larger ones, the seat will need to be removed to allow for enough stowage space. That said, some scooters have folding tillers and seats, making it possible to lift in one piece. Once the scooter is attached, it can be lifted using the power of the electric motor within the hoist. This is done by pressing buttons on an extension control box connected to the hoist by a coiled extendable cable. Once the scooter is at a suitable hight ready to be swung into the car, it can either be pushed manually into place or, in the case of larger capacity hoists, be electrically swung just like a large crane. Once in place, the scooter can be electrically lowered into position with the whole process taking around 60 seconds.
Lifting Capacities: Why pay for a large 200kg capacity lift when you only own a smaller lightweight folding scooter? This is why our hoist manufacturer produce a variety of hoists to suit your needs and budget. Model capacities vary from 40kg and 80kg for lightweight folding scooters such as an eFOLDi, plus some 4mph class 2 pavement scooters and most manual wheelchairs. Then there are 80kg and 100kg models for mini scooters to some larger 8mph scooters and some powered wheelchairs. Then finally, three more models being able to lift 125kg 150kg and 200kg respectively. These bigger hoists are suitable for most large 8mph class 3 road-going scooters and much heavier power-chairs.
Costs: The average cost of a fully fitted hoist is £1850 (VAT Exempt) but this is subject to full a assessment which may lead to a slightly lower or slightly higher price depending on the vehicle. Hoists start at £1450 and go up to £1999, this includes fitting by professionals at your home. It is possible your mobility scooter hoist may also be available through the Motability scheme. Fitting takes just a few hours and with over 400 specific car fitting kits it's probable your car will be suitable.
Pros: Very easy to use | Vastly reduces risk of personal injury | Easy home demo and fitting | Lifts up to 200kg | Does not effect parking |  UK manufacture and support | Transfers to another vehicle
Cons: Takes up space in car 
See More Details Here and arrange a free assessment and home demonstration of the Smart Lifter hoist.
The Tow Bar Mobility Scooter Lift: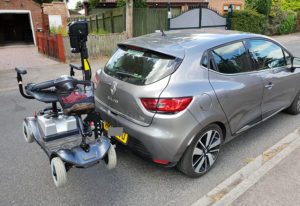 Increasing in popularity in the UK following great success in the USA is the TriLift UK mobility scooter lift. These lifts come in one convenient size and are simply fitted onto a cars tow bar. The big advantage of the TriLift over an internal hoist is that internal space in the car is not compromised, plus these lifts can be used on a standard saloon car as well as hatchbacks. They also have a clever tilting mechanism which still allows access into the cars boot or hatch.
Operation: First, the TriLift UK is attached to your tow bar and the lift electrics are connected to the tow bar socket. Next, your scooter is professionally fitted with a small custom triangular lifting bracket. To lift the scooter, simply line up the scooter bracket with the matching triangular insert on the TriLift UK and by pressing a switch, electrically raise the lift off the ground and thats it. Easy as pie.
Lifting Capacities: The TriLift UK is designed to lift many makes and models of scooter, but, a full assessment is required to make sure your car is suitable. This can usually be carried out over the telephone.
Costs: These are dependent on whether you already have a tow bar and electrics in place (If not this can be arranged). And also subject to a free no obligation assessment of your vehicle and car combination. We can also organise a free home demonstration so you can see how the TriLift UK works in real life.
Pros: Very easy to use | Vastly reduces risk of personal injury | Easy home demo and fitting | Transfers to another vehicle
Cons: Not suitable for very heavy scooters 
See More Details and arrange a no obligation assessment and free home demo of the TriLift UK.